by: Meghan Toups
Happy fall, y'all! Well, almost fall. 73 Degree mornings are the only proof I need: fall is on the way. Everyone here in the South is bursting with excitement for everything fall. Even my 5 year old, while looking out the car window at a leaf that is falling, excitedly shouts "FALL IS HERE!"
There's something about the fall in Georgia… maybe it's the fact that we can all begin to leave our homes without being ambushed by the sweltering heat of Atlanta, or maybe it's just some people's pretty intense addiction to Starbuck's pumpkin spice lattes. Either way, one of my favorite parts of the change in seasons is the change in food. Melons, cold salads and other summer treats are great, but I'm happy for a change of pace with soups, stews and the return of my crockpot.
Eating squash is a great way to get lots of good nutrition in your body and skip the unnecessary carbs. For a pretty substantial amount of time, I thought that squash (is squashes plural or is it just squash? Let me know in a comment, oh wise English majors) was a great centerpiece that was thrown away when it became rotten. I'm so happy I've been proven wrong. If you are like me and only use squash as a centerpiece, I want to share some of my most favorite gourd recipes with you.
The first is a staple in our house that I make almost weekly in the fall. It's created by Dr. Andrew Weil. It's completely and utterly healthy for you, fills you up, and tastes awesome. Definitely give this one a try.
Dr. Weil's Winter Squash and Apple Soup
Food as Medicine:
You get all sorts of goodies here: antioxidant carotenes from the squash, omega-3 fatty acids from the walnuts, and plenty of vitamins, minerals, and fiber.
Ingredients
1 large winter squash (about 2 1/2 pounds), such as butternut, buttercup, or kabocha, peeled, seeded, and cut into 2-inch pieces.
2 medium onions, peeled and quartered
3 cloves garlic, peeled
2 tart, firm apples, peeled, cored, and quartered
2 tablespoons extra virgin olive oil
Salt and red chili powder to taste
4-5 cups vegetable stock
Instructions
1.Preheat oven to 400°F.
2.In a large roasting pan, toss the squash, onions, garlic, and apples with the oil to coat. Season well with the salt and chili powder. Roast, stirring every 10 minutes, until the vegetables are fork-tender and lightly browned, about 40 minutes.
3.Put half the vegetables with 2 cups of the stock in a food processor and purée until smooth. Repeat with the remaining vegetables and broth. Return puréed mixture to the pot. If the soup is too thick, add more broth.
4.Correct the seasoning and heat to a simmer.
---
The next recipe I'd like to share is one from 100 days of real food. Visit her blog here to check it out. We subbed gluten free baking mix and baked them up in muffin tins for a fast breakfast for the whole family.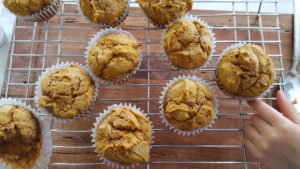 ---
And finally, I would highly encourage everyone to try baking spaghetti squash and subbing it for pasta. My daughter (who's become slightly picky these days) will ask me to give her half squash and half GF pasta. I'll happily agree because she's still getting plenty of nutrients and fiber in the squash.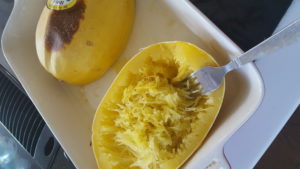 It's so easy. Grab a 2-3 lb spaghetti squash and follow these simple directions from http://www.thekitchn.com/how-to-cook-spaghetti-squash-in-the-oven-178036
Instructions
1. Preheat the oven to 400°F: Preheat the oven while you prep the squash.
2. Slice the squash in half: Use a chef's knife to cut the spaghetti squash lengthwise from stem to tail. Spaghetti squash are really tough and hard, so be cautious and work slowly. You can cradle the squash in a balled-up dish cloth to keep it steady as you cut.
3. Scoop out the seeds: Use a soup spoon to scrape out the seeds and stringy bits of flesh from inside the squash. Be careful of actually digging into the flesh, though — we want that! The inside should look clean and fairly smooth. Discard the seeds (or save them and roast them for a snack!).
4. Place the squash in a roasting pan: Place the squash halves cut-side down in a roasting pan.
5. Pour in a little water (optional): Pour a little water in the pan, enough to cover the bottom. Your squash will roast just fine without it, but I find that the water helps the squash steam and become more tender. You can also cover the pan with aluminum foil, if you prefer.
6. Cook the squash for 30 to 45 minutes: Transfer the squash to the oven and cook for 30 to 45 minutes. Smaller squash will cook more quickly than larger squash. Check the squash after 30 minutes to gauge cooking.
7. The squash is done when tender: The squash is ready when you can easily pierce a fork through the flesh all the way to the peel. The flesh will also separate easily into spaghetti-like strands. You can also taste it right now — if the noodles are still a bit crunchy for your taste, put the squash back in the oven for another 15 to 20 minutes.
8. Scrape out the squash: Use a fork to gently pull the squash flesh from the peel and to separate the flesh into strands. The strands wrap around the squash horizontally — rake your fork in the same direction as the strands to make the longest "noodles."
9. Serve the squash: Serve the squash immediately, tossed with a little butter or olive oil. Spaghetti squash will also keep refrigerated for up to a week, or frozen for up to 3 months.
---
I'd love to hear from you if you decide to try out any of these recipes… or if you have some of your favorites to share with us, we'd love to see them. Hope you enjoy them and happy fall to you, friends!
Lots of love, Meghan
Meghan Toups, MS, LPC, CHC is a licensed professional counselor and certified health coach with Merge Health, Fitness and Nutrition, Inc. She specializes in the natural, holistic treatment of anxiety and stress and her passion is helping people to feel more balanced by integrating healthy foods, meditation, self-talk and optimizing self care. She works with individual clients and groups in the Marietta Square, just 20 minutes outside of Atlanta and via phone and Skype. Contact her at Meghan@MergeintoHealth.com to schedule an appointment or speaking engagement.